Chattanooga Dentist Team You Can Trust
Welcome To McOmie Family Dentistry
Dr. Mark McOmie and the team at McOmie Family Dentistry are dedicated to helping you feel great, look spectacular and smile your best.
Award Winning Dentist
We Want To Be Your Dentist In Chattanooga
McOmie Dentistry voted Best Cosmetic Dentist office In Chattanooga for 5 years in a row 2018-2022 in the Chattanooga Free Press Tennessee Valley's People Choice Awards. Call us and experience what makes our dentist office your #1 choice for improving your smile and providing you the personal, thoughtful care you deserve for all your dental needs. Contact Us Today!
There's a reason we are considered one of the best dentists in Chattanooga TN. We have hundreds of 5-star reviews from our happy patients on Google, Facebook, and Yelp who highly recommend our dental office because we genuinely care about not only your smiles, and making you feel comfortable, but we care about you and your family.
When looking for a dentist office near you in Chattanooga, TN, it's important to find someone you can trust to provide the most appropriate care for your unique needs. At McOmie Family Dentistry, your well being, satisfaction, dental care and helping you maintain a healthy smile are our number one priority from your first visit to your lifelong relationship with McOmie Family Dentistry we look forward to serving you and your entire family. Our Chattanooga, TN dentist team is dedicated to giving you the personal, thoughtful attention that you and your family expect. Dr. Mark McOmie, and Dr. Tori Dixon Hall provide years of unmatched experience, and expert knowledge that helps patients make well-informed choices about your oral health needs to ensure you get only the best treatment available.
Often new patients who come into our office tell us that they are embarrassed by their teeth and often hide them by not smiling when meeting new people, at work, or in family pictures. If this sounds like you and you are worried about the appearance of your teeth, there is no need to worry; we can help and welcome you into our care where the smiles of Chattanooga residents is our #1 priority.
We pride ourselves on providing a welcoming, no judgment, and a comfortable environment that changes people's lives for the better and restores their confidence, health, and happiness with personalized, comprehensive cosmetic and restorative, and general dentistry care.
Our location on Shallowford Rd. Chattanooga, TN 37421, provides the most exceptional dental care services available, covering general dentistry, cosmetic dentistry, restorative dentistry, and preventive dentistry treatments to serve your whole family. We build real connections that last for years, not just take on new patients. We serve patients all over the Chattanooga TN area, and many patients from surrounding areas of Ooltewah, Collegedale, Cleveland, Hixon, Tyner, and East Brainerd, TN.
Complete Smile Treatments
Personalized Dental Care Services
Whether you located in downtown Chattanooga, North Chattanooga, East Brainerd, Cannondale, Twin Brook, Meadow Lawn or anywhere else in Hamilton County and are looking for the best dentist we are here to help with everything from a dental emergency to a full treatment plan for a cosmetic dentistry smile makeover. For more information about the healthy smile dental treatments we offer at McOmie Family Dentistry and how we can help you maintain your dental health, schedule an appointment today or click a treatment link below to learn more.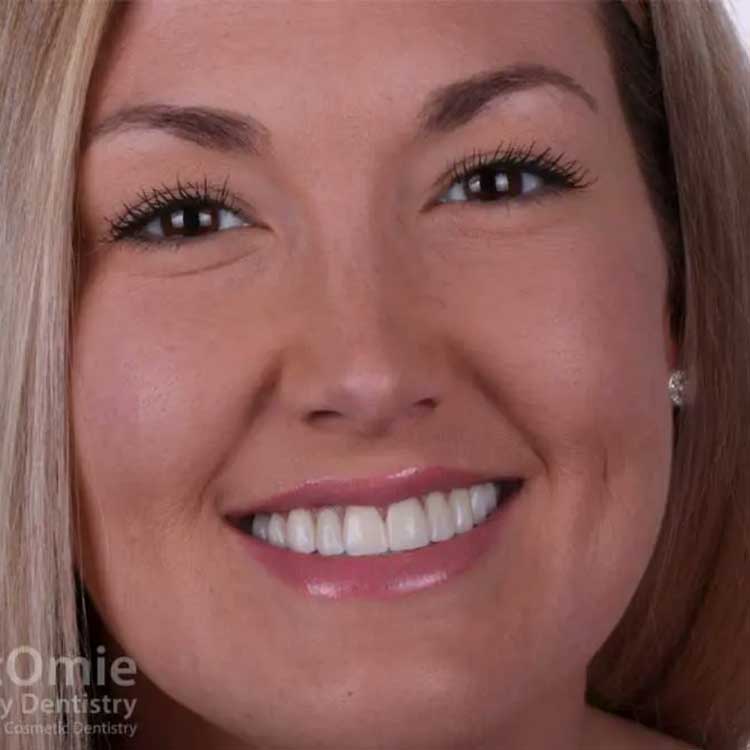 Smile Makeovers
To create a flawless smile and regain a fresh overall appearance our dentists address every part of your teeth, gums and oral health. Let us help you look your best.
Dental Implants
Are you missing one or more teeth or have dentures? Implants are the best way to restore missing teeth that look, feel and act like just like your natural teeth and can last a lifetime.
Porcelain Veneers
Are you hiding your teeth when you smile? Porcelain veneers improve the front surface of a tooth when the doctor covers it with a thin, custom-made layer made of tooth-colored porcelain.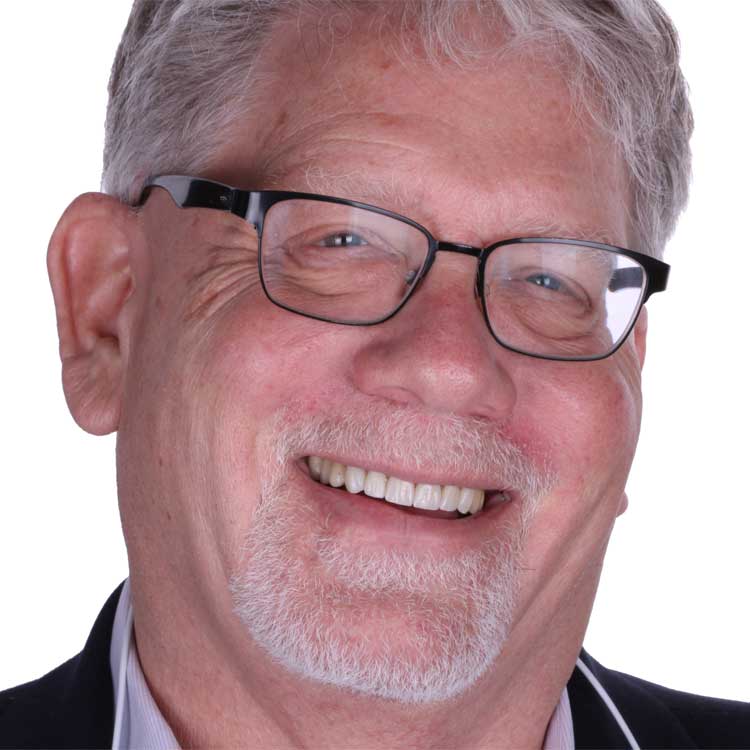 Dental Crowns
Crowns restore a broken, damaged or decayed tooth's size, shape, and durability. We will completely cover the tooth that appears above the gum line and become the new outer portion of the tooth.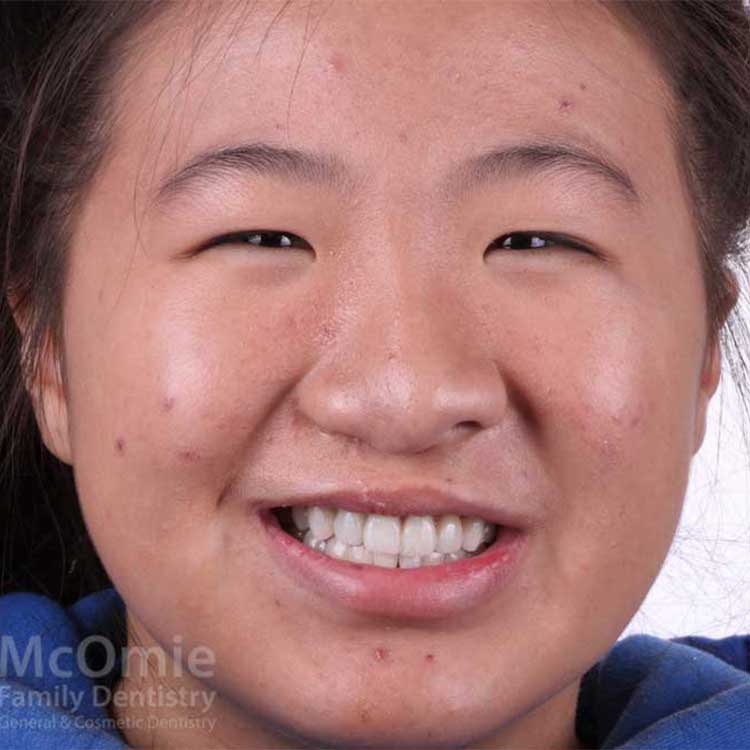 Dental Bridges
Bridges are connected to the neighboring teeth to replace missing teeth, restore chewing abilities, improve your teeth help support the shape of your face, and relieve stress on your bite. See if a bridge is the perfect solution for you.
Root Canals
Get rid of tooth pain fast! When decay and infection spread and invade the pulp and root, a root canal may be required. Dr. McOmie has performed thousands of root canals, and we use the best technology to make the procedure pain-free.
Insurance & Financial Info
We Are Here To Help You Get The Care You Need!
We will work with you to make your dentistry as affordable as possible. We help our patients access every potential benefit of their dental insurance coverage, and are here to help you get the care you deserve when you need it most.
Our Promise To You
Why Choose McOmie Family Dentistry
We know our patients have many options for dental care in the Chattanooga, TN area. Our experienced award-winning team is here to help you achieve your dental goals with our comprehensive approach and personalized treatment plans.
We are dedicated to providing exceptional care in a comfortable environment where we treat every patient like family. You won't find another dentist like us anywhere else in town!
Your visit will be a relaxed and positive experience, and we look forward to helping you have an impressive natural smile, avoid dental problems and enjoy the lifelong benefits of good oral health.
Expert Dentist
Meet Dr. Mark McOmie D.M.D
Our Chattanooga, TN dentists office expertise in materials, technology and our approach to providing you with the best possible solutions for your oral health makes us your #1 choice for a local dentist near you.
Helpful info from our staff
Dental Tips For You and Your Family
Dental implants are a popular and effective way to replace missing teeth, but the process can seem daunting if you don't know what to expect. Understanding the timeline of the implant process can help you feel more confident and prepared for the journey ahead. In...
read more
Patient Reviews
What Our Patients Say
There is a reason we are highly rated and trusted by our patients on Google, Facebook and Yelp.
