Dental Case Study: Veneers
Patient History
The single most talked about procedure in cosmetic dentistry is veneers. Veneers are a thin porcelain shell that goes over the front surface of a tooth. This is a case where we used veneers to make a smile gorgeous. We have done hundreds of these cases, and we can show you many cosmetic dental procedures and let you see what can be done with a set of veneers.
In this instance, the patient had finished orthodontic treatment a few years earlier. She had some spots on her teeth that are white and some that are brown. There were spaces between the teeth that she didn't find appealing. The teeth appeared to be short. Not because they actually are short, but because the gums are over the teeth further than needed. A minor periodontal surgery procedure was performed at the same time the veneers were prepared to make the teeth longer. This is such a minor procedure called a gingivectomy that pain medicine is not needed.
Final Results
After two weeks cosmetic dental veneers were back from fabrication at the lab. She loved them! They completed her beautiful smile. Dental veneers are done in Chattanooga every day by McOmie Family Dentistry.
Regardless of How Tough the Case Is, We Can Help!
We are committed to helping you fix your teeth and offer convenient appointments for all of your dentistry needs. Call us today at (423) 225-9881
Meet Our Dentist
Dr. Mark McOmie D.M.D
Learn why Dr. McOmie is a leader in dentistry and how he can help you get renewed confidence in your smile with precise artistry, quality, personalization, and expert dental care.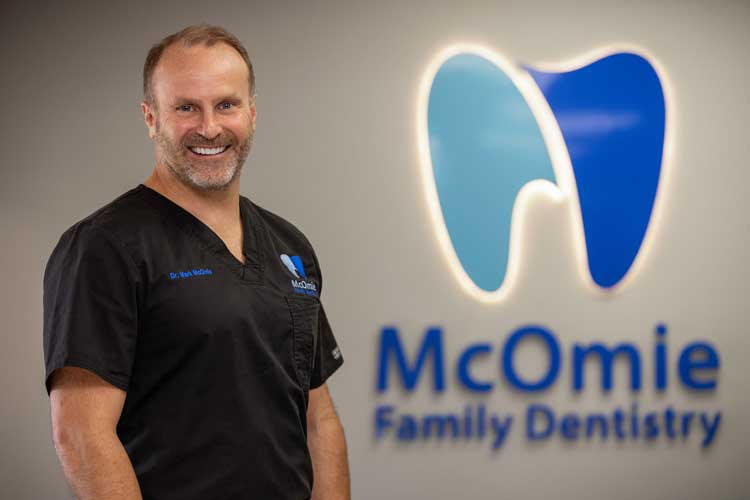 Our Promise To You
Why Choose McOmie Family Dentistry for Your Dental Needs
We know our patients have many options for dental care in the Chattanooga, TN area. Our experienced award-winning team is here to help you achieve your dental goals with our comprehensive approach and personalized treatment plans. We are dedicated to providing exceptional care in a comfortable environment where we treat every patient like family. You won't find another dentist like us anywhere else in town! With so many options available, it can be difficult knowing which procedure will work best for you but don't worry – we have years of experience helping patients just like yourself get their perfect smile back again!
Patient Reviews
What Our Patients Say
There is a reason we are highly rated and trusted by our patients on Google, Facebook and Yelp.
