General Dentistry in Chattanooga
General Dentistry Can Help tooth sensitivity, Chipped Teeth and Bleeding Gums
Keep Your Teeth Healthy and Strong
General Dental Procedures
If these scenarios sound familiar, then you would most likely benefit from our general dentistry treatments.
We make it our mission at McOmie Family Dentistry, located in Chattanooga, TN, to provide each and every one of our patients with excellent dental care so that they can attain and maintain ultimate dental health for life. It is our job as General Dentists to see the patient's dental health as a whole and to understand every specialty. This way, we can be sure that we are providing the best treatment tailored to the needs of the individual. If issues go, untreated more serious problems can develop, requiring more complex treatments in the future.
We offer our patients a full range of general dentistry treatments, including emergency treatment, cavity treatments, root canals, tooth extractions, orthodontics, periodontics, and oral surgery.
Emergency Dental Care
Do you have a toothache, broken tooth crown, or filling? McOmie Family Dentistry is your emergency dentist near you in Chattanooga, TN. We are here to help ease your pain in any dental emergency.
Root Canals
Patients are used to hearing that root canals are painful, but Dr. McOmie uses technology has improved treatment so that your root canal treatment can be performed quickly and painlessly.
Tooth Extractions
If your tooth is aching from infection, decay, or disease, you may need to have the tooth removed. At McOmie Family Dentistry, we offer common and surgical tooth extractions to alleviate pain and restore dental health.
Oral Surgery
At McOmie Family Dentistry, we offer several oral surgery options to meet your needs from simple extractions to more complex wisdom tooth extractions and a variety of bone graft procedures to restore your bone and prepare for implants.
Gum Disease Treatment
Nobody should have to live with the discomfort and complications caused by gum disease. Our periodontic treatments at McOmie Family Dentistry are minimally invasive and effective at treating and healing gum diseases.
Orthodontics
We offer several methods of tooth alignment, including clear aligners, retainers, space maintainers, and the treatment of jaw, face, and bite irregularities, including overbites, underbites, open bites, and crossbites.
Are You Looking For a General Dentist Near You?
We are committed to helping you fix and maintain your teeth and offer convenient appointments for all of your restorative dentistry needs. Call us today at (423) 225-9881
General Dentist
Meet Dr. Mark McOmie D.M.D
Learn why Dr. McOmie is a leader in general dentistry and how he can help you get renewed confidence in your smile with precise artistry, quality, personalization, and expert general dental care.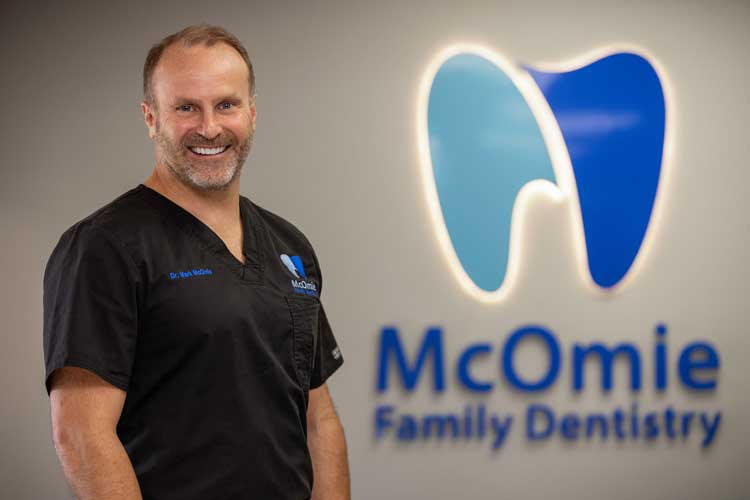 Our Promise To You
Why Choose McOmie Family Dentistry for Your General Dental Needs
We know our patients have many options for cosmetic dental care in the Chattanooga, TN area. Our experienced award-winning team is here to help you achieve your cosmetic dental goals with our comprehensive approach and personalized treatment plans. We are dedicated to providing exceptional care in a comfortable environment where we treat every patient like family. You won't find another dentist like us anywhere else in town! With so many options available, it can be difficult knowing which procedure will work best for you but don't worry – we have years of experience helping patients just like yourself get their perfect smile back again!
Patient Reviews
What Our Patients Say
There is a reason we are highly rated and trusted by our patients on Google, Facebook and Yelp.
