Great To Meet You, Meet Morgan Frontdesk/Dental Assistant
Our good to meet you dental staff blog posts have been a fun way for our patients and fans to get to meet our staff. This week we are featuring Morgan! Morgan is a trained dental assistant, she works primarily at the front desk of McOmie Family Dentistry. She also helps us out chairside when we need her to help with a procedure, seat a patient or grab an x-ray for us. She is dependable and does a great job. Keep reading to learn more about Morgan!
The women from Morgan's family. from left to right Morgan's mother, her grandmother, and Morgan. Pose for a picture on Mother's Day this past year.
A Little About Morgan
Morgan is from Ringold, Georgia. She went to Ringold High School, in fact she rarely left north Georgia as a kid.  She went to Miller Motte in Chattanooga, for dental assisting school. She has wanted to be a dental assistant, ever since she was a kid. When she had braces she thought it was really neat and it peaked her interest in dentistry. She decided when she was in junior high dental assisting was a career she wanted to pursue.  There are 3 kids in her immediate family. She is extremely close with her family they get together frequently. She loves spending time with her family. She is married and has one child, who is a boy. She, her husband and son live in Ringold Georgia. She has lived in the same zip code her entire life. Something that seems increasingly rare.
Morgan is a very loyal person and extremely dependable, her family knows she is always there for them. She is always here for us at McOmie Family Dentistry her patients know this by the way she treats them. She is one of the softest and kind people you will ever meet. She will go out of her way to help a person in need. Morgan was originally hired to work on the front desk. She is really getting around the office these days. She loves being involved in patient procedures as well. So when you come to our office you may see her in any area of the office. It seems more and more frequently we are calling on her to bring her talents to chairside patient care these days. She is the type of person who will happily work anywhere and help any co-worker pick up the slack.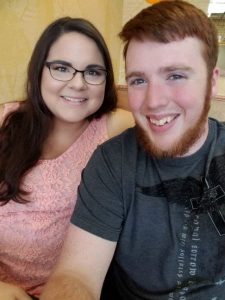 Morgan and her husband Danielle.
Morgan's son. This is a picture with a story for sure. They were out playing by some ponds and the dog on the left caught and killed the snake her son is holding. Before Morgan realized what was going on her son ran over and took the snake from the dog. Luckily for him it was dead before he grabbed it. Not knowing if the snake was poisonous or not this gave his parents a heart attack. Happily everything turned out fine, well everything for the people and the dog. The snake well, as you can see it didn't fair so well.
A little known fact is that Morgan is an outstanding fisherman. She has caught many fish. When she was in high school she got into fish noodling. For those that don't know, that is a southern tradition of catching catfish with your hands. She won a fishing tournament when she was twelve. Okay not really a tournament more like a pond fishing party, but her fish was the biggest. She says she caught a 9 pound bass once but without photographic evidence of the alleged catch, we think it is a fishy story.
Morgan and her husband love taking selfies on the way to church.
Fun Facts About Morgan
She is a south paw, yes she is left handed.
Clumsy could be her middle name she admits.
Her favorite vacation is going to a beach, any beach, any time at the beach. She loves Hilton Head, Panama City, Daytona Beach, Jekyl Island.
Cooking is one of her hobbies, especially baking.
Reading is something she does daily, it is one of her favorite activities.
Morgan is extremely close to her family.
Favorite food is Italian.
Growing up her favorite football team was FSU, she has converted to Alabama! Roll tide!
Dream trip is going to Italy.
She loves attending festivals of all kinds on the weekends.
In high school Morgan was a cheerleader, soccer player, and on the dance team. In soccer she was a defender and played goalie.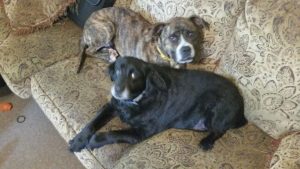 She has 2 cats and 2 dogs.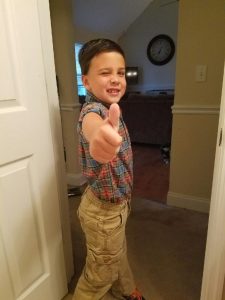 A big thumbs up for dental hygiene instructions! From her son.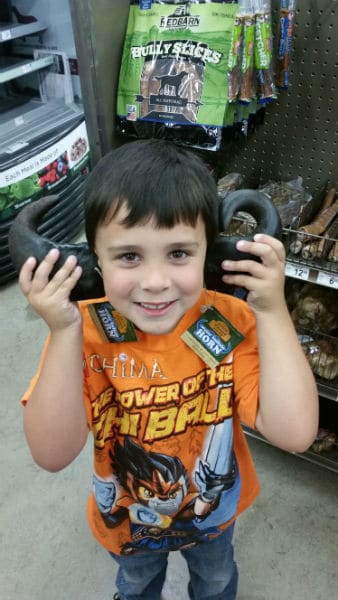 Goofing around with some dog treats at the pet store.
What do you like most about working at McOmie Family Dentistry?   
I like everything here. We as employees get treated very well by Dr. Mark and Dr. Ellen. The staff here is close knit, we have a family atmosphere here. I love that it makes you look forward to coming to work instead of dreading your job. I feel lucky to have a job I look forward to going to everyday.
What do you like about being a dental assistant and working on the front desk?
I love the patient interaction that I get to have everyday. Not only working at the front desk but working chairside as well. I love talking to people and helping them fix what is wrong. It doesn't matter if it is with their tooth or a problem with their insurance. It feels good to help people.
What made you want to be a dental assistant?
I had braces on for 4 years! During those 4 years I spent a ton of time at dental offices. I loved that my teeth went from crooked to having a pretty smile. I will always remember the feeling I had when the braces came off, it was great so exciting. I like that I can help someone get the feeling I had. I love when someone comes in for dental bonding and leaves one hour later looking awesome! You can see it on them they are a new person! I know the feeling they have and it is great!
Star Wars fans
Give us a call and come see Morgan. Her friendly smile will welcome you in the door and she is happy to help you with anything. So what are you waiting for give us a call McOmie Family Dentistry 423-899-1112.