Preventive Dentistry in Chattanooga
Preventative Dentistry is Way Better Than Fixing Problems.
Keep Your Mouth Healthy and Happy
What is Preventative Dentistry?
Preventative or Preventive dentistry, as the name suggests, is aimed towards preventing problems from occurring to minimize the need for restorative dentistry in the future. This is the best way to protect teeth and reduce dental costs. Even if a minor problem exists, this form of dentistry looks at treating the problem effectively in the early stages to prevent it from becoming worse and causing further concerns.
Dental Exams
When you visit us for a routine dental exam, we work together to improve both your dental health and prevent undetected dental issues from becoming more severe problems that cause pain, gum disease, and even tooth loss.
Teeth Cleaning
During your routine dental cleaning by our trained dental hygienists at McOmie Family Dentistry, you can relax and rest assured that you are in for a pain-free experience that will leave your teeth looking and feeling great.
Tooth Sealants
Brushing isn't always sufficient. Dental sealants give your teeth additional protection against decay and help prevent cavities by sealing the tiny grooves and are less likely to harbor plaque.
Velscope Oral Cancer Screenings
Our VELscope screening system uses a specialized blue light source and viewing scope that allows Dr. McOmie to look closely at the tissues inside your mouth and highlight precancerous and cancerous cell changes to detect oral cancer.
Fluoride Treatment
Fluoride treatments effectively prevents cavities and tooth decay in your children's teeth by covering your teeth and preventing plaque from building up and hardening on the tooth's surface, keeping it healthy and strong.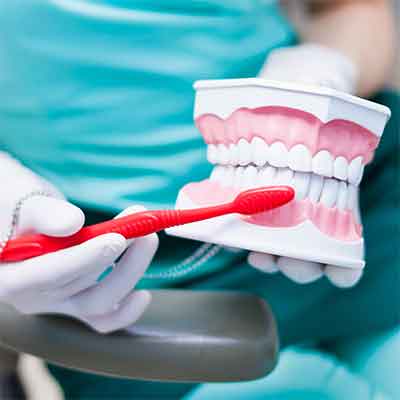 Oral Hygiene Instruction
One of the things that really sets Dr McOmie's office apart is our drive to help the patient understand their oral hygiene needs and set a customized routine in place. We really believe that education and prevention are part of our job.
What Preventative Measures Can I Take?
The science of preventative dentistry is changing. It is no longer only brush and don't eat sugar. Dr. McOmie is at the forefront of dental technology with new treatments to desensitize, eliminate bacteria, and maximize the strength of your enamel. We are also dedicated to screening for oral cancer in all of our patients.
We recommend that you visit us every six months for a regular dental check-up. Regular professional cleaning and dental examination can prevent more serious problems from occurring and enable you to maintain good oral health for longer.
Between visits, it's important you take care of your teeth by brushing twice a day and flossing daily. It's also a good idea to use an antiseptic mouthwash to eliminate germs, prevent gum disease and bad breath.
Are You Looking For a Preventative Dentist Near You?
We are committed to helping you keep your teeth happy and healthy. We offer convenient appointments for all of your preventive dentistry needs. Call us today at
(423) 225-9881
Preventive Dentist
Meet Dr. Mark McOmie D.M.D
Learn why Dr. McOmie is a leader in cosmetic smile restoration and how he can help you get renewed confidence in your smile with precise artistry, quality, personalization, and expert cosmetic dental care.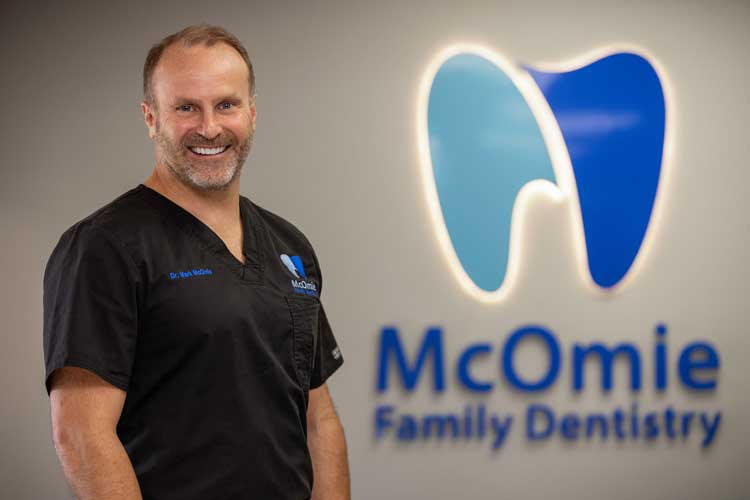 Our Promise To You
Why Choose McOmie Family Dentistry for Your Preventive Dental Needs
We know our patients have many options for cosmetic dental care in the Chattanooga, TN area. Our experienced award-winning team is here to help you achieve your cosmetic dental goals with our comprehensive approach and personalized treatment plans. We are dedicated to providing exceptional care in a comfortable environment where we treat every patient like family. You won't find another dentist like us anywhere else in town! With so many options available, it can be difficult knowing which procedure will work best for you but don't worry – we have years of experience helping patients just like yourself get their perfect smile back again!
Patient Reviews
What Our Patients Say
There is a reason we are highly rated and trusted by our patients on Google, Facebook and Yelp.
