Restorative Dentistry in Chattanooga TN
Restorative Dentistry Returns Your Smile So You Can Enjoy a Lifetime of Confidence and Great Oral Health
We Can Repair Your Decayed or Missing Teeth
Restorative Dental Procedures
If you have chipped, broken, decayed, or missing teeth that are causing you pain, making it difficult to eat, or you're just self-conscious about your smile, our restorative dental treatments are perfect for you.
Whether you are missing several teeth or may need a full mouth reconstruction due to extensive trauma or decay from gum disease, Dr. McOmie and the team at McOmie Family Dentistry can use composite inlays and onlays, crowns, bridges, or dental implants to repair or replace your damaged teeth in just a few visits.
Dental Implants
If you have annoying dentures or are missing one or more teeth, dental implants can restore your ability to enjoy the foods you love while restoring your confidence and a healthy smile and pain-free mouth.
Dental Bridges
If you have a gap in your teeth or have lost a tooth, we can use a bridge to fill in space between your teeth and restore your natural tooth with a stunning bridge that looks natural beside your other teeth.
Dental Crowns
A custom-made, expertly placed crown is often the best way to restore a tooth that has suffered from extensive decay or other damage. We offer durable dental crowns made from natural tooth-colored porcelain.
Dental Inlays and Onlays
When a filling is not enough but a crown is not required, composite dental inlays and onlays are an excellent solution to repair and improve your damaged teeth when you need a solution more substantial than fillings.
Tooth Colored Fillings
We use bio-compatible materials for our fillings, and we don't offer silver fillings. We haven't done a silver filling since 1998. We use materials that help stimulate the tooth to make natural dentin to aid in keeping it healthy. Your oral and systemic health is our priority.
Bone Grafting
As a skilled dental implant dentist, Dr. McOmie often combines bone grafts into implant cases to help patients with bone loss who otherwise wouldn't be good candidates for implants replace missing teeth.
TMJ and TMD
Diagnosis is a crucial step before treatment. Part of our thorough dental examination includes checking the joints and muscles for tenderness, clicking, popping, or trouble moving.We can effectively treat your TMD and end your pain.
What is Restorative Dentistry?
Restorative dentistry aims to repair tooth structure and function to improve overall oral health. Our dentists can repair broken and decayed teeth, replace missing teeth, and make your existing smile more beautiful.
What Can We Do?
Restorative treatments such as fillings, crowns, bridges, bone grafts and implants are designed to restore your teeth, bone and gums to their former healthy condition. We have the latest technology and the most modern techniques combined with true caring. We are able to rebuild a beautiful, functional smile with no pain in just a few visits.
Are You Looking For a Restorative Dentist Near You?
We are committed to helping you fix your teeth and offer convenient appointments for all of your restorative dentistry needs. Call us today at (423) 225-9880
Restorative Dentist
Meet Dr. Mark McOmie D.M.D
Learn why Dr. McOmie is a leader in restorative tooth restoration and how he can help you get renewed confidence in your smile with precise artistry, quality, personalization, and expert restorative dental care.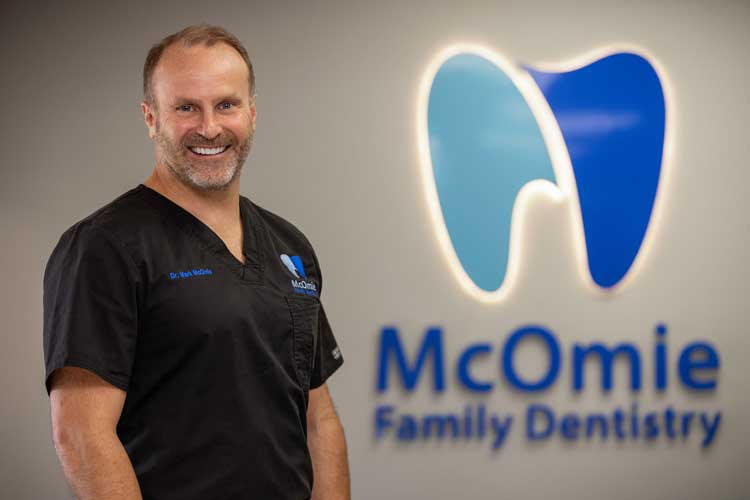 Our Promise To You
Why Choose McOmie Family Dentistry for Your Restorative Dental Needs
We know our patients have many options for restorative dental care in the Chattanooga, TN area. Our experienced award-winning team is here to help you achieve your restorative dental goals with our comprehensive approach and personalized treatment plans. We are dedicated to providing exceptional care in a comfortable environment where we treat every patient like family. You won't find another dentist like us anywhere else in town! With so many options available, it can be difficult knowing which procedure will work best for you but don't worry – we have years of experience helping patients just like yourself get their perfect smile back again!
Patient Reviews
What Our Patients Say
There is a reason we are highly rated and trusted by our patients on Google, Facebook and Yelp.
