So you want to whiten your teeth. You're not alone!
In fact, when the American Academy of Cosmetic Dentistry asked what people would most like to improve about their smile, the most common response was whiter teeth. In fact, teeth whitening is the #1 cosmetic procedure done worldwide!
There Are Several Teeth Whitening Options
With so many teeth whitening products on the market, you may be left scratching your head as to which one you should choose. As with any type of treatment, it's important to know all the facts so you can make the best choice for you and your unique smile! Some of the most common teeth whitening options are:
Whitening toothpastes
Whitening strips and gels
Tray-based tooth whiteners
In-office whitening
Whitening Is Safest And Most Effective When Supervised By A Dentist
You should always consult Dr. McOmie before deciding to whiten, as this cosmetic procedure isn't for everyone. There are also many benefits to whitening here at McOmie Family Dentistry! We have several systems to whiten teeth safely and effectively.
We also take extra steps to ensure you don't become sensitive. If sensitivity does happen we have ways to make it go away quickly.
For example, if you're considering a tray-based tooth whitener, seeing us here at McOmie Family Dentistry is definitely your best option. Our staff will take an impression of your teeth so that your whitening tray is customized exactly to fit your teeth. This will ensure maximum contact between your teeth and the whitening solution as well as protect your gums.
If you choose in-office whitening, we will provide additional protection for your gums and the soft tissue of your mouth so that no irritation from the whitening solution occurs. To do this, we will apply a gel over your gums that is light-cured.  This makes a barrier that keeps the whitening gel off your gums and on your teeth where it maximizes its effectiveness.
With over-the-counter products, you're on your own. With our in-office systems, our staff will check your mouth, the type and extent of stains on your teeth, the number of dental restorations you have, and consider your medical history to decide which whitening option is best for your specific smile.  We will oversee the process and results of the treatment to ensure the treatment's safety and efficacy.
A Note To Parents
Teeth whitening is a big trend among teenagers. Parents should always supervise their teenagers' use of whitening products as overuse or failure to follow directions can damage tooth enamel or irritate gums. Consult with Dr. Mark McOmie before allowing your teenager to whiten to make sure they are at an appropriate age and stage of dental development for whitening.
Still curious about how whitening works? Check out the video below to learn more!
https://youtu.be/5VVtzd0guas
Would You Like a brilliant smile that impresses? With the GLO Science teeth whitening system, you can have a smile that shines in no time!
Brighten Your Smile At Home Or On The Go
The GLO Brilliant™ Personal Teeth Whitening Device is a convenient system that reinvents the experience of teeth whitening. Using patented G.L.O. (Guided Light Optic) technology, it combines professional elements of heat and light built into a one of a kind – closed system mouthpiece that accelerates the whitening process, preventing the whitening oxygen from escaping the tooth surface, bombarding the stains, and making the whitening process more effective and more efficient.
Used with their innovating whitening gel G-Vials that contain a minty fresh, stay-put formula that adheres to your teeth without getting on gums and other soft tissue. This avoids the problems of sensitivity common with other whitening methods.
We see less sensitivity with GLO Science teeth whitening than we have seen with any other system. The other thing that we love is you only use it for 8 minutes at a time. This is quick, easy, and effective! What's not to love. Whiter teeth faster and better than ever before!
Here at McOmie Family Dentistry, we have a great clientele. Many local celebrities and news anchors are patients here. This is the system they all use to keep their teeth looking so white on TV. Now we are reducing the price for a limited time so everyone can try it. Just $500 for the in-office and take home this is normally $1000! We know once you try it you will love it!
Since we have added Glo Science to our practice it has become our #1 whitening system!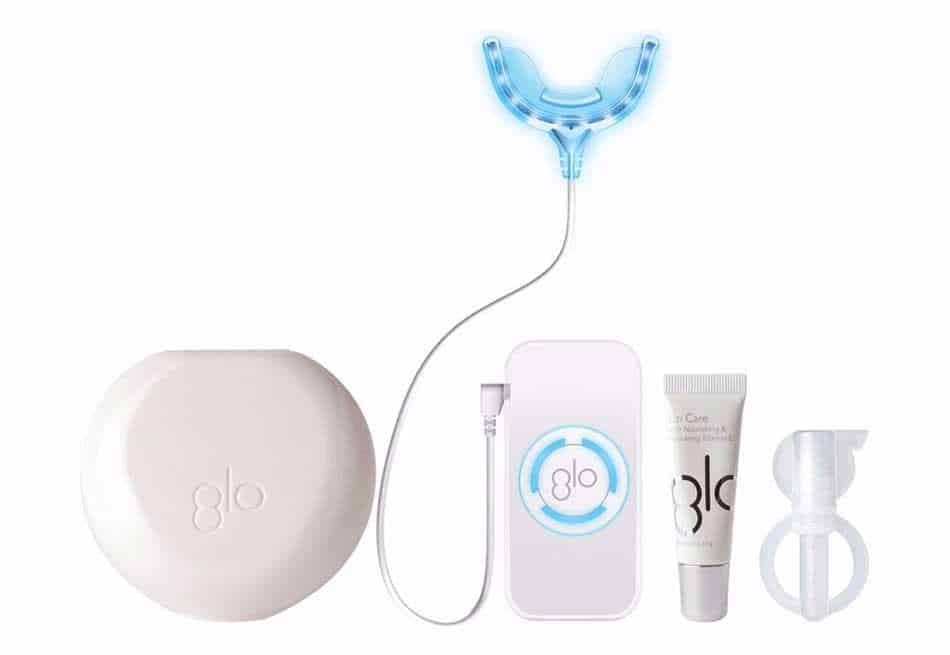 Give GLO Science Tooth Whitening A Try In Our Office
Are you ready for a whiter, brighter smile without any of the drawbacks or inconvenience of other methods? Come into our office and give the GLO Brilliant™ Personal Teeth Whitening Device a try! We'd love to show you how it can improve your unique whitening experience.
Keep Your Smile Beautiful
What truly keeps teeth bright, white, and healthy is daily brushing and flossing. But if you feel like your smile is lacking some sparkle or has yellowed over the years, give us a call or come in to see us! We'd be happy to help you brighten up that beautiful smile of yours.
In fact we are running a $200 Opalescence whitening special right now! Give us a call McOmie Family Dentistry (423) 899-1112. We love our patients!