Gingival Re-Contouring
---
Gingival Recontouring Can Fix Your Gummy Smile In A Single Visit
Gingival recontouring or gingival sculpting is the cosmetic dental treatment procedure of reshaping the gum (gingival) tissue around your teeth which can significantly improve your smile and your oral health.
To achieve healthy and natural-looking gums with gingival sculpting, we use a minimally invasive laser method done in our Chattanooga, TN office to remove and re-sculpt irregular or unnecessary gingival tissue.
Often we perform reshaping of gum tissue for cosmetic reasons. It can change that "gummy" smile in just one visit. It can also help uncover part of the teeth to improve the shape of small, stubby teeth. Some people have a lopsided smile line, simply because of excess gingival tissue. This too is easily fixed with gingival recontouring.
Gingival recontouring can also be used to help people maintain better oral health. Deep gingival pockets retain plaque and bacteria. When these pockets are too deep for a patient to maintain with proper home care, we can reduce these pockets with this simple one visit procedure. Eliminating these pockets with gingival recontouring prevents further progression of periodontal bone loss.
What Is The Gingival Sculpting Process
Gingival resculpting is done with a laser or a radiosurge. These techniques eliminate bleeding. In some cases, only a topical anesthetic is needed. After gingival sculpting, the very edge of the gums may feel like a rug burn for a day or 2.
Related Cosmetic Procedures
Gingival recontouring can be performed separately or in combination with other cosmetic dental procedures as part of a comprehensive cosmetic smile makeover. This may be all that is needed to create a beautiful smile. If other alignment or color problems exist, crowns or veneers may also be necessary, but having the proper proportion of tooth structure exposed lays the groundwork for a beautiful smile.
Benefits of Gingival Recontouring:
It is safe, fast and practically painless
The results are permanent
Healing is fast
Improves your appearance and ultimately your self-confidence
Gingival Recontouring Gallery
Check out our smile gallery and see some of our patients before and after smiles. OPEN GALLERY
Before Gingival Recontouring
After Gingival Recontouring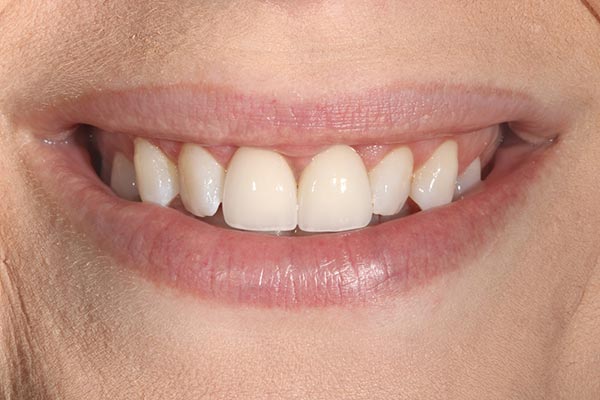 Call Us Today, So We Can Help you Decide If Gingival Recontouring Is Right For Your Smile.