Dental Case Study: Upper Crowns and Bridge Restoration
Patient History
In this dental case study, we see a person who was born with a cleft palate. Oftentimes people with cleft palates are born without some of their front teeth. This person is no exception he is missing his top left lateral incisor. He had been through braces with a great orthodontist here in Chattanooga. The before pictures are shown below are after the braces came off.
Dental Treatment Performed
The orthodontic treatment performed did many great things for this patient there are limits to what braces alone can do. In this case, we had some tooth size discrepancy and the patient is only hitting on his right side with two pre-molars. All the other teeth did not touch the opposing tooth. As a result chewing food was very difficult. With the teeth not touching and a stable plane of occlusion (bite) needed the patient and his parents choose to do crowns on all the upper teeth. This was a good decision because then the patient didn't need restorations on the lower but would have the benefit of a good stable bite.
To start this case we did a scan with our Trios scanner of the patient's teeth. This captures not only the teeth but also the way their teeth come together. Then what we call a diagnostic wax-up is done. This is a process where we make the teeth in wax look like we think the final teeth should look like. It is pictured below. The temporaries were duplicates of the diagnostic wax-up. This was the patient is able to "test drive" if you will the final restorations before they are permanent. If changes are needed we can make them in the temporary stage. In this case, we figured out the front teeth needed to be a little longer than the temporaries were, this change was made in the final crowns.
Final Results
The teeth were prepared for the crowns and bridge in one day and temporaries were placed. He was able to wear the temporaries for 2 weeks in the "test drive". The permanent restorations came in and were cemented in one visit. The patient and his family loved the outcome.
After the crowns and bridge the patient is very happy with his newly restored smile.
Before teeth and gum up close
Biting surfaces of the new crowns, they don't look like crowns. They look like natural teeth.
This picture shows the characteristics of the new restorations. The color of the edge of the tooth is not the same as the color at the gum line. This makes these teeth look lifelike and real
Pre-op printed model made from our intra oral scanner and a 3-D printer
Diagnostic wax-up so we can make temporaries for our patient to "test drive" his final restoration
Regardless of How Tough the Case Is, We Can Help!
We are committed to helping you fix your teeth and offer convenient appointments for all of your dentistry needs. Call us today at (423) 225-9881
Meet Our Dentist
Dr. Mark McOmie D.M.D
Learn why Dr. McOmie is a leader in dentistry and how he can help you get renewed confidence in your smile with precise artistry, quality, personalization, and expert dental care.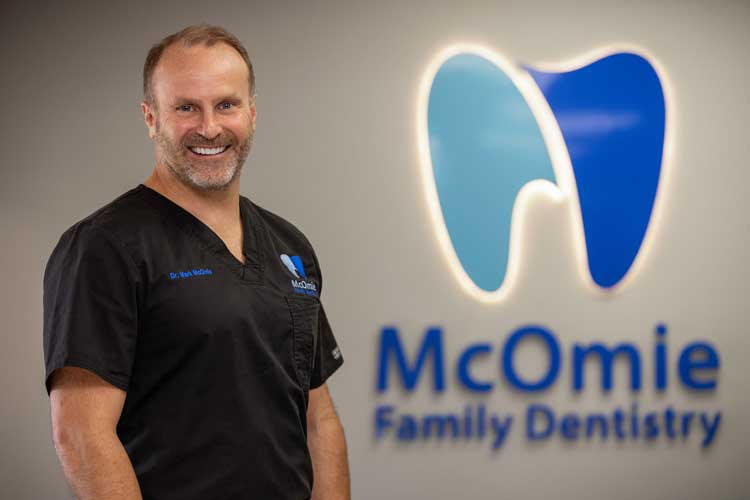 Our Promise To You
Why Choose McOmie Family Dentistry for Your Dental Needs
We know our patients have many options for dental care in the Chattanooga, TN area. Our experienced award-winning team is here to help you achieve your dental goals with our comprehensive approach and personalized treatment plans. We are dedicated to providing exceptional care in a comfortable environment where we treat every patient like family. You won't find another dentist like us anywhere else in town! With so many options available, it can be difficult knowing which procedure will work best for you but don't worry – we have years of experience helping patients just like yourself get their perfect smile back again!
Patient Reviews
What Our Patients Say
There is a reason we are highly rated and trusted by our patients on Google, Facebook and Yelp.
