McOmie Family Dentistry offers a variety of cosmetic dentistry treatments in Chattanooga. Our cosmetic dentist approaches every patient individually, helping address their specific concerns. Whether it's needing to replace missing teeth with a dental implant, restore areas of tooth decay with dental crowns, or in this case, craft beautiful porcelain veneers to completely transform their appearance, we can make your vision a reality.
Why Cosmetic Dentistry Treatment?
Chattanooga cosmetic dentistry helps transform your teeth to make them look healthier and more attractive. Whether you only have one tooth, you're concerned about, or several teeth, our dentist can help you find the best treatment plan for your timeframe, budget, and aesthetic goals. Many people find that once they complete their smile makeover procedure, they regret not having done it sooner. The life-changing benefits are truly priceless, as they affect your confidence and personality just as much as your appearance.
Depending on what your goals are, you may find that you only require a one-hour appointment or choose to phase the process out over several visits to meet your desired results.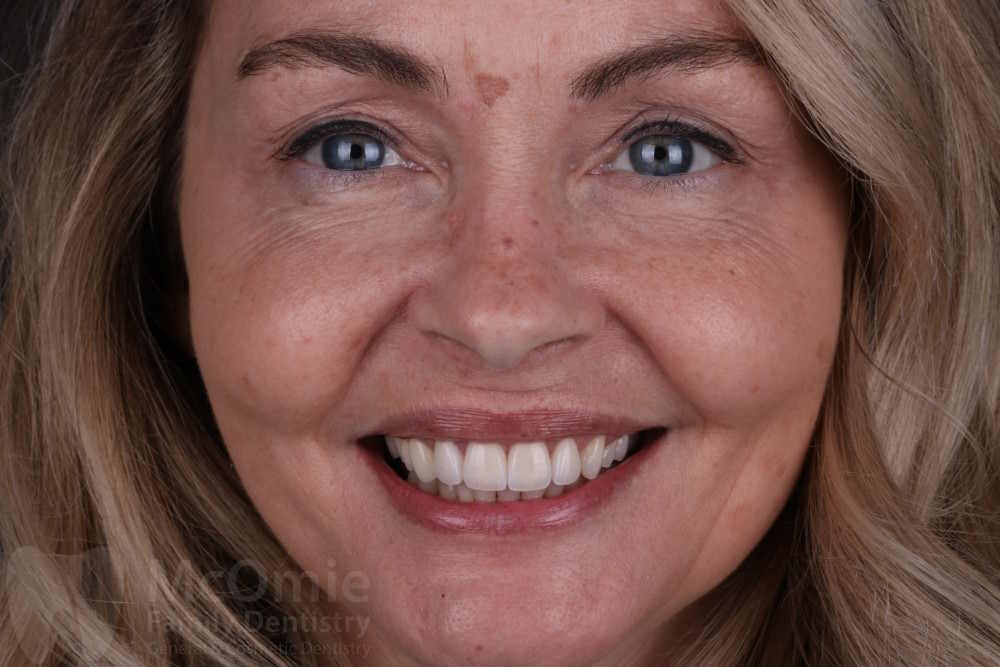 Teeth Whitening
Professional teeth whitening treatment is a fast, safe, and affordable way to help boost your appearance. A good candidate for teeth whitening will have healthy teeth and gums and no visible dental work (like fillings or crowns) in their front teeth. However, if you're planning on updating old dental work, our dentist's office can whiten your smile first so that new restorations can be matched to your brighter tooth color.
Professional teeth bleaching is more effective than products you buy in stores. Over-the-counter products may contain similar ingredients, but the concentration will be far lower than what you find from in-office whitening or a professional take-home bleaching kit. We'll show you how to see drastic results while minimizing tooth sensitivity. When administered by a dental professional, you'll see a faster improvement in the appearance of your tooth enamel.

Dental Veneers
Cosmetic veneers are aesthetic restorations that we bond over the front of your healthy, existing teeth. Typically, veneers are placed across all of your visible upper front teeth in sets of 6-8 or more. After our Chattanooga dentist preps your teeth and takes impressions, we fit you with temporary veneers to wear while the permanent veneers are being crafted at the lab.
Since they're placed across the front surface of your teeth, you can plan exactly how you want your veneers to look. From the new color of your smile to the shape and size of specific teeth, your options are wide open.
Many people consider dental veneers to be the premier cosmetic dentistry choice when looking for a smile makeover. When you drastically improve your smile, you'll find that veneers also boost your confidence and self-esteem and help you feel your best when it comes to interacting with other people (whether socially or professionally.)
Gum Contouring (Gummy Smile Treatment)
A gummy smile can make your teeth look short, uneven, or asymmetrical. Uneven gums can detract from even the most beautiful teeth. Fortunately, gum contouring can adjust uneven gum tissues to create more symmetrical teeth without any enamel shaping.
In years past, gum recontouring was a complex and uncomfortable process that required lengthy healing times. Thankfully for our Chattanooga cosmetic dentistry clients, that's no longer the case. McOmie Family Dentistry can provide gentle gum recontouring and minimal downtime, providing you excellent results that leave your smile looking its best.
Gummy smile treatment is frequently combined with other procedures like bonding or whitening. However, it can greatly impact your smile even if you don't require other general dentistry treatment.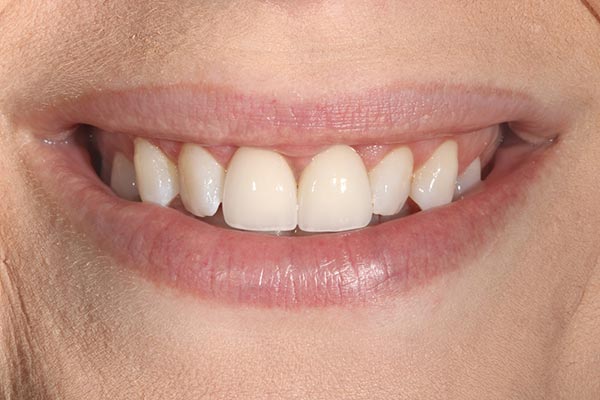 Clear Aligners for Straight Teeth
Symmetrical smiles are naturally beautiful. But if you have gapped or crooked teeth, other cosmetic dentistry options may not help. Instead, clear aligners or traditional braces can reposition your teeth to provide naturally attractive results. Most of our smile makeover clients prefer clear aligners like Invisalign or ClearCorrect, as they are removable, more comfortable to wear, and extremely discreet.
And if you have stained teeth, you can also undergo teeth whitening treatments while working toward your straight smile.
Not only are straight teeth attractive, but they also tend to be healthier. When you have a straight smile, you reduce your risk of cavities, gum disease, and more.
Same-Day Cosmetic Bonding
If you have slightly chipped teeth, dental bonding is a quick solution. Bonding can correct small chips (as opposed to larger fractures that may require a crown) in just one appointment. During the procedure, our Chattanooga dentist will shape the composite over the involved teeth to help them look whole again. This comfortable procedure usually requires less than an hour from start to finish, providing immediate results on the same day. Cosmetic bonding is ideal for isolated areas where you need to fix chipped enamel or cover a specific aesthetic flaw in one or two teeth. It can also be placed over areas of gum recession.
Dental bonding is best for isolated issues, whereas if there are more teeth, you may want to use porcelain veneers instead.
Cosmetic Restorative Treatment
In addition to specific cosmetic dentistry treatment, McOmie Family Dentistry also provides attractive restorations that enhance your smile as they rebuild broken or decaying teeth. For example, if you have missing teeth, our Chattanooga cosmetic dentist can use artificial teeth on bridges or dental implants to fill in that space. The results are both functional as well as attractive.
We also offer restorative, cosmetic procedures like ceramic crowns and white fillings. These treatments blend in with your natural teeth as they're matched to your own dental enamel. They are shaped to complement the surrounding teeth, making them less obvious whenever you smile. As such, you can enjoy a healthier smile and one that's more attractive.
Smile Makeover in Chattanooga
Looking for a cosmetic dentistry team in Chattanooga? Call McOmie Family Dentistry for your smile makeover today to reserve an exam and consultation. We'll review appropriate dental services that meet your lifestyle and scheduling needs, helping you improve your smile in as little as one appointment. We'll also work with your dental insurance to help you maximize your coverage for affordable care.
Contact us today to get started!