THANKSGIVING IS just around the corner! Not only is it a time to share good company, but it's also a time to share good food!
It's Time To Share Our Favorite Thanksgiving Dishes!
Each family has their own signature dish they serve this time of year. Today, we'd like to share some of our dental team member's favorites!
Scarlet's – "Can I pick two favorites I don't think I can have just one. I love chicken and dressing!!! I know most people like turkey and dressing but I find chicken less dry. My second favorite is sweet potatoes with marshmallows browned on the top! I love that stuff! I could eat the whole pan. Sweet potatoes are super food right? So it is totally healthy or that is what I tell myself after I eat tons of it. "
Morgan's – "My whole life I have looked forward to Thanksgiving for chocolate pie! It is the best thing and somehow I only get it at Thanksgiving. I love my Grandmother's chocolate pie and she has a top secret special recipe. She won't give it out. Can you believe I still don't have her chocolate pie recipe? One day I will get it, but for now looks like I am still sitting at the kids table."
Savannah's – "The dressing! Half of my plate will be dressing the other half of my plate will be all the 40 other things we have for Thanksgiving. With my husband's family and my family we have at least 3 thanksgivings so I can get dressing 3 times a year. I might sneak off to Cracker Barrel in July for some, but no one knows that."
Ashley's – "Thanksgiving gives me a chance to eat homemade mac-n-cheese! My moms is the best! Not that stuff you get in a box but the real deal made with real cheese and baked in the oven. When you eat it you get those long strings of cheese with steam coming off it. I am making myself hungry just thinking about it. "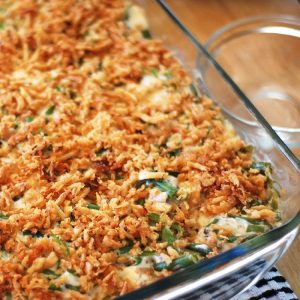 Jamie's – "I love green bean casserole! I like those onion strings on top of it to add a little crunch to it. My favorite!"
Kristen- "Thanksgiving is totally the best I love everything about it. As for food I really love coconut pie, chocolate pie. You can't beat a homemade cranberry sauce mixed with a little homemade stuffing, man I love turkey when it is warm just carved. Homemade rolls are my favorite. Okay that is a bunch of stuff but I just love it all I can't come up with just one thing. So I choose everything."
Allie's – "Thanksgiving just wouldn't be Thanksgiving without home style stuffing. You know the good kind that is nice and moist and it has to be hot! People talk about getting too full on turkey but I get too full on stuffing."
Dr. Mark's – " I am a turkey fan. When a turkey comes out of the oven and is hot I could eat the whole thing. I love both white and dark meat they have very different flavors and I like them both. I love eating leftover turkey as well. Turkey sandwiches for days afterwards is something I look forward to for sure. "
Do you have a favorite holiday recipe? Feel free to share it with us on our Facebook page or in the comments below!
Have A Happy Thanksgiving!
Thanksgiving isn't just about the food, it's about expressing gratitude. We're so grateful for each of you—our valued patients and friends. Because of you, we're excited to come to work each day. Thank you for your kindness and the trust you place in our practice.
From our family to yours, McOmie Family Dentistry wishes you a safe and happy holiday season!